Honoring Your Traditions
Innisbrook's expansive 900-acre property provides the perfect setting for your special day. You'll find unmatched facilities with elegant ballrooms accommodating from 200 to 800 guests, an exclusive kitchen for large-scale catering, expansive natural scenery, and over 300 spacious guest rooms and suites. Our expert catering team is with you every step of the way overseeing every detail, and ensuring the highest level of exceptional and dedicated service that your special day and customs deserve.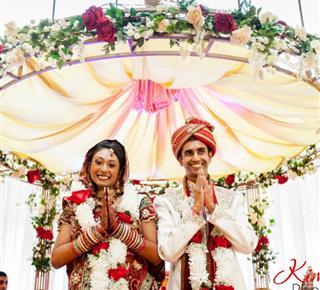 Customize Your Experience
EVENT SPACE
From the Sangeet/Mehndi and the Baraat to the wedding ceremony and reception, Innisbrook offers awe-inspiring indoor and outdoor settings to accommodate gatherings of all sizes.
Island Club 10th Tee Oak Tree
Accommodates 75-275 guests.
Breathtakingly majestic oak tree with Spanish moss, lush ferns, and panoramic water views.
Inverness Hall Grand Foyer
Accommodates 200-800 guests.
Majestic high ceilings with grand chandeliers and a theatrical size permanent stage.
Stirling and Edinburgh Ballrooms
Each accommodates 75-300 guests.
Classic elegance and sparkling chandeliers, each with a permanent stage.
EXPERIENCE
We pride ourselves on working with our clients to meet their specific needs. We understand your unique traditions, and we strive to accommodate special requests. Our experienced catering and event services team is skilled in planning all parts of a multicultural celebration and making your wedding dreams come true. We welcome the opportunity to discuss your unique desires and create a package specially designed for you.
CATERING
Experienced with multicultural wedding customs, our catering and event services team is with you and your family every step of the way.
Whatever options your celebration entails, be it a brunch buffet or sit-down dinner menu, our wedding event planners will help you create fantastic menus that you and your guests will savor. Outside catering with approved preferred vendors offers clients the flexibility to meet cultural and dietary needs. Our wedding planning partners are among the top vendors in the local market and can provide you with everything you need on your wedding day.
CONTACT US
For more information or to schedule a tour, please contact us at 727.942.5288 or [email protected]
*Photos provided by Kimberly Photography