Packard's Steakhouse
Packard's Steakhouse
As part of our commitment to constant improvement, Packard's Steakhouse is currently closed for enhancements. We look forward to welcoming guests back to our refreshed dining experience in the coming months, and invite you to visit other culinary locations, including Market Salamander Grille & Bar, The Grille at Loch Ness for poolside dining, and Turnberry Pub, located in our Island Clubhouse.
Located right on the Copperhead Course, Packard's Steakhouse — our signature restaurant — serves only the finest aged premium beef steaks, sumptuous cold water lobster tails, and fresh local fish finished with our chef's creative touches. Packard's offers a comfortable setting with upscale cuisine, cocktails, and fabulous wines from around the world.
Reservations are recommended, please call 727.942.5240.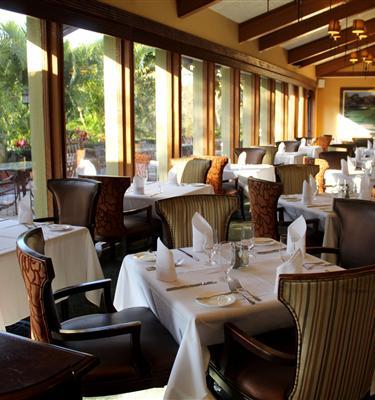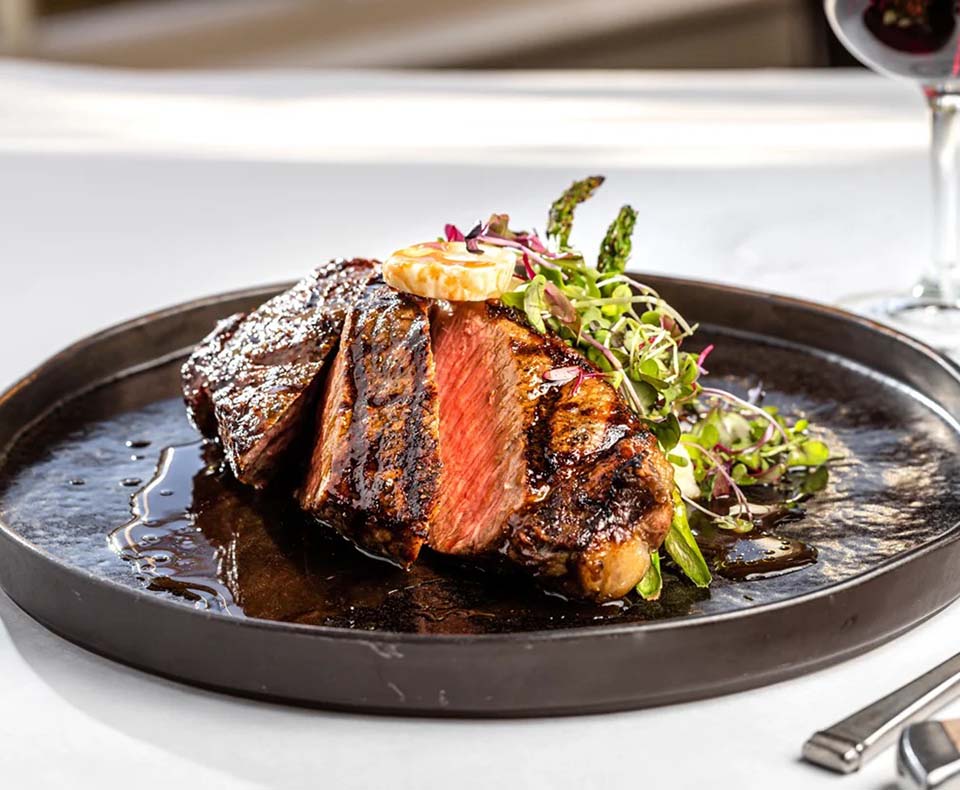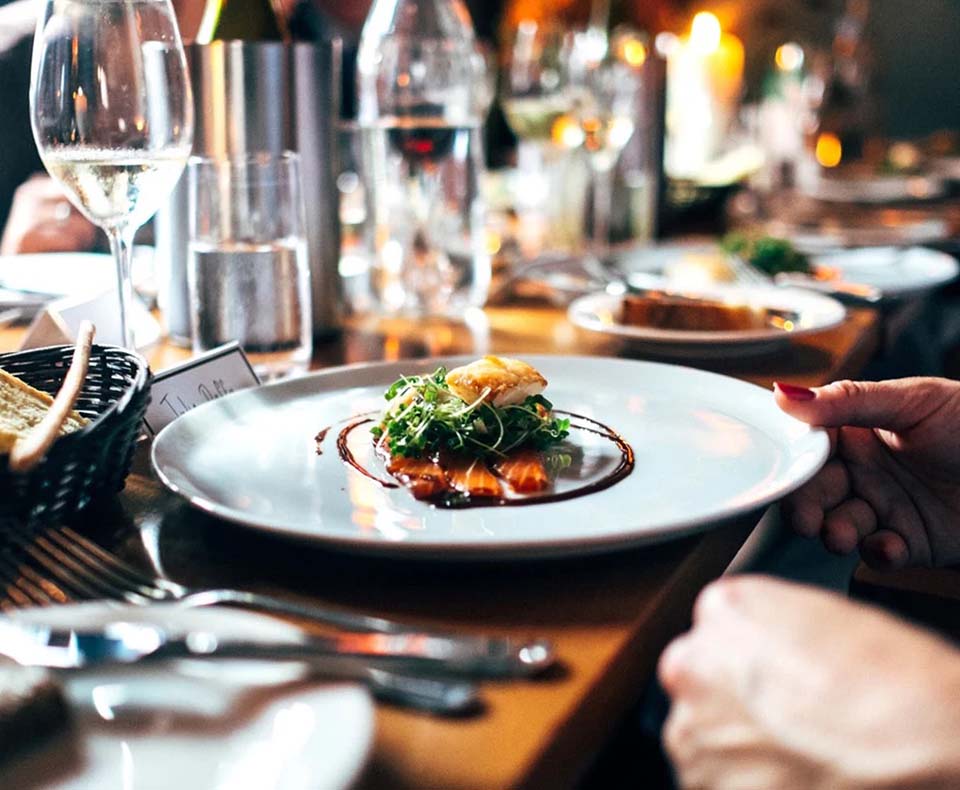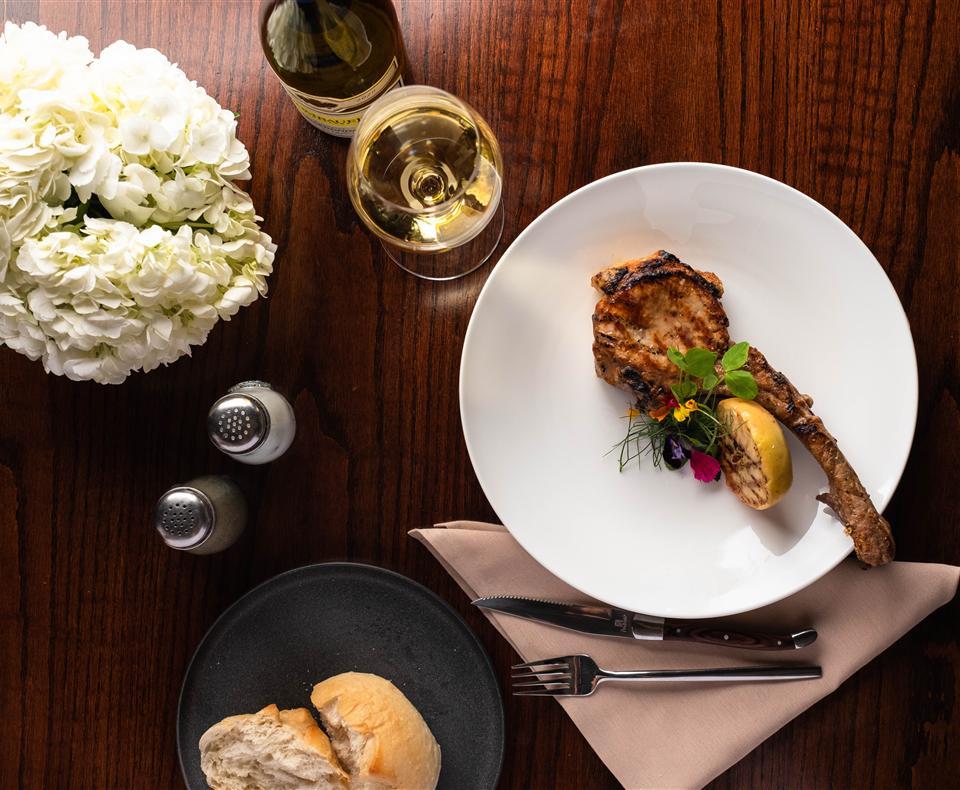 Menus
Small Plates
Fresh From the Oven 4
Daily selection of pastries and muffins
Bagel 5
Served with cream cheese
Fresh Berry Parfait 10
Greek Yogurt, Seasonal Berries, and Granola
Steel-Cut Creamy Oatmeal (V) 7
Brown Sugar, Raisins, Sun-Dried Cranberries
Dry Cereal Favorites (V) 7
Brown Sugar, Raisins, Sun-Dried Cranberries
Dry Cereal Favorites
With your choice of Milk
Add Strawberries $1.00
Side Offerings
Breakfast Meat (GF) 6
Bacon, Breakfast Sausage, Sliced Ham
Potatoes, Grits 4
Single Extra Large Egg Any Style (GF, V) 5
Fresh Seasonal Fruit 9
Cantaloupe, Pineapple, Honeydew, Grapes, Seasonal Berries
Toast or English Muffin 5
Served with a selection of premium jams and jellies
Beverages
Orange, Apple, Cranberry, Grapefruit, Tomato Juice 4
Fresh Brewed Regular or Decaffeinated Coffee 3.50
Whole, Low Fat, or Chocolate Milk 3
Espresso 5
Cappuccino 5
Specialties
Two Extra Large Eggs 15
Two Extra Large Eggs Any Style with Bacon, Sausage or Sliced Ham, Potatoes, and White, Wheat or Rye Toast
Three Egg Omelet 17
Build yours with Mushrooms, Peppers, Tomatoes, Onions, Potatoes, and White, Wheat or Rye Toast
Steak and Eggs 19
Tenderloin of Beef, Two Extra Large Eggs Any Style, Potatoes, and White, Wheat or Rye Toast
Classic Belgian Waffle 13
Fresh from our Iron, finished with Powdered Sugar, Whipped Cream & Fresh Berries
Chicken and Egg Biscuit 16
Two Extra Large Eggs Any Style, Fried Chicken, Housemade Biscuit, Smothered in Sausage Gravy
Breakfast Sandwich 15
Create your sandwich with Two Extra Large Eggs, Ham, Bacon or Sausage, Cheddar, Swiss, or American Cheese on a Bagel, Toast, English Muffin, or French Butter Croissant served with Potatoes
Appetizers
Steak Nachos 17
Corn Tortilla Chips, Beef Tips, Cheddar Cheese, Tomatoes, Sour Cream
Packard's Meatballs 15
Fresh Tomato Marinara, Grana Padano
Calamari Fries16
Tempura Fried Squid, Spicy Marinara, Citrus Mustard, Parmesan Oil,
Cracked Black Pepper, Sea Salt
Barbecue Bacon Shrimp 20
Apple Smoked Bacon, Barbecue Sauce
Soups
Lobster Bisque 9
Lobster Stock, Mirepoix, Sherry, Heavy Cream, Boursin Cheese
French Onion 8
Beef Broth, Sweet Onions, Baguette, Gruyere Cheese
Salads
Add Chicken Breast or Chicken Salad 8, Filet Medallions 12, or Shrimp 9
Caesar 13
Chopped Romaine, Grana Padano, Herb Croutons, Housemade Dressing
Signature Packard's 17
Mixed Field Greens, Candied Pecans, Boursin Cheese, Shredded Carrots, Tomatoes, Dried Cranberries, Cabernet Dijon Dressing
Entrees
Sandwiches are served with your choice of French Fries, Light Coleslaw, or Fruit
Bogey Club 18
Turkey, Ham, Provolone Cheese, Bacon, Lettuce, Tomato, Mayonnaise, Seven Grain Toast
Pepper Steak Sandwich 21
Filet Mignon Tips, Sherry Braised Onions, Au Poivre Sauce, Gruyere, Baguette
Char-Grilled Burger 19
Housemade Premium Beef Patty, Choice of American, Cheddar, or Swiss Cheese, Brioche Bun
Fresh Fish of the Day 20
Local Fish Blackened or Grilled, Tartar Sauce, Brioche Bun
Chicken Salad Sandwich 17
Shredded Chicken, Pickled Mustard Seeds, Red Onion, Aioli, Crispy Chicken Skin, Lettuce, Tomato
Mediterranean Turkey Wrap 16
Turkey, Lettuce, Tomatoes, Olives, Feta Cheese, Herb Vinaigrette
Spaghetti and Meatballs 18
Spaghetti, Meatballs, Marinara Sauce, Grana Padano
Packard's Stir Fry 16
Sautéed Mixed Vegetables in a Sweet Chili Sauce served on Jasmine Rice
Add Chicken Breast 8, Filet Medallions 12, or Shrimp 9
Appetizers
Roasted Bone Marrow 22
Shallot Confit | Herbs | Crostini
Tempura Calamari 18
Marinara | Rémoulade | Pickled Fresno | Lemon
Seared Scallops 26
Polenta | Beurre Blac | Hazelnuts
Crab Cake 25
Paddlefish Caviar | Crème Fraîche | Rémoulade
Shrimp Cocktail 21
Gulf Pink Shrimp | Cocktail Sauce | Lemon
Oysters, 1/2 Dozen 24
Cocktail Sauce | Lemon
Seafood Tower MP
Soups & Salads
French Onion Soup 12
Sourdough Crouton | Gruyère Cheese
Lobster Bisque 20
Lobster | Boursin
Little Gem Wedge Salad 17
Point Reyes Blue Cheese | Tomatoes | Pancetta | Buttermilk Dressing
Caesar Salad 15
Focaccia Croutons | Shaved Grana Padano
add Anchovy +3
Signature Packard's Salad 18
Mixed Field Greens | Candied Pecans | Boursin Cheese | Carrot | Cranberry Heirloom Tomato | Cabernet-Vinaigrette
Heirloom Tomatoes & Burrata 16
Garlic | Olive Oil
Sides
Roasted Garlic Mash Potatoes 13
Roasted Garlic | Cream | Butter
Brussel Sprouts 14
Bacon | Garlic | Shallot
Loaded Baked Potato 12
Butter | Cheddar | Bacon | Sour Cream | Scallion
Creamed Spinach 14
Béchamel | Fontina
Shoestring Fries 12
Sautéed Mushrooms 14
Cremini | Shiitake | Trumpet | Oyster
Asparagus 14
Grilled | Lemon
Broccolini 13
Charred | Garlic | Lemon
Lobster "Mac and Cheese" 21
Cavatappi | Comté | Fontina | Brown Butter Crumble
Land Selection
Tomahawk Ribeye, 38 oz 168
Dry-aged 35 days | Kale | Fresh Horseradish
Bone-In New York Strip, 18 oz 78
Dry-aged 35 days | Demi-Glace
Filet Mignon, 8 oz 56
Demi-Glace
New York Striploin, 14 oz 62
Demi-Glace
Ribeye, 18 oz 72
Demi-Glace
Châteaubriand, 18 oz 135
Sel Gris | Roasted Garlic | Demi-Glace
Niman Ranch Long-Bone Pork Chop 39
Poached Pink Lady Apple | Brown Butter
Colorado Rack of Lamb 64
Celery Root Purée | Kalamata Demi-Glace
Bone-In Filet Mignon, 14 oz 92
Porterhouse, 40 oz 155
Enhancements
Maître D'Hôtel Butter 6
Red Wine Bordelaise 4
Béarnaise 6
Au Poivre 8
Chimichurri 6
Demi-Glace 6
Horseradish Cream 5
Point Reyes Blue Cheese 8
Crab Oscar 18
Lobster tail 8 oz 35
Sea Selection
Grouper 53
Grilled | Herb Butter
Faroe Island Salmon Puttanesca 44
Tomatoes | Capers | White Anchovies
Dover Sole MP
Desserts
Crème Brûlée 16
Madagascar Vanilla Bean Custard | Caramel | Seasonal Berries
New York Style Cheesecake 16
Graham Cracker Crust | Basil Coulis | Crème Chantilly | Seasonal Berries
Chocolate Dome 16
Valrhona Manjari Mousse | Caramelized Hazelnuts | Pecan Cocoa Crumble
Brown Butter Cake 16
Salted Caramel | Dulce de Leche & Vanilla Bean Ice Cream
Red Velvet Cake 16
Cream Cheese Mousse | Dark Chocolate Ganache | Crème Chantilly
Carrot Cake 16
Bavarian Cream Cheese | Citrus Carrot Coulis | Candied Walnuts
Drinks
PORT WINE
Sandman's Founder's Reserve, 9
Taylor Fladgate, 20 Year, 18

COGNAC
Courvoisier VSOP, 12
Courvoisier XO, 30
Remy Martin XO, 46
Remy Martin, Louis XIII (1 ounce pour), 225
BOURBON
Knob Creek, 9 Year, 12
Four Roses, Single Barrel, 15

SCOTCH
Johnnie Walker Black, 12
Johnnie Walker Blue, 62
Glennfiddich, 18 Year, 26
Oban, 14 Year, 20
Cocktails
Espresso Martini, 16
Chocolate Martini, 15
Birthday Cake Martini, 15
Sparkling & Champagne
Chandon, Brut, California
Zonin, Prosecco, Italy
Veuve Clicquot, Brut, France
Lucien Albrecht, Brut Rose, Cremant d'Alsace
Dom Perignon, Brut, France
Louis, Roederer, Cristal, France
Glass / Bottle
15 / 58
14 / 54
130
16 / 62
325
290
Pinot Grigio
Maso Canali, Italy
Pighin, Italy
Santa Margherita, Italy
Barone Fini, Italy
42
11 / 42
14 / 54
15 / 58
Sauvignon Blanc
Carmenet, California
Whitehaven, New Zealand
Chalk Hill, Sonoma
Cakebread, Napa
Chardonnay
Carmenet, California
Whitehaven, New Zealand
Domaine la Barbotaine, 2016 Sancerre, FR
Cakebread, Napa
Alternative Whites
Riesling Chateau Ste. Michelle, Columbia Valley
Rose, Fleur de Prairie, France
Albarino, Opolo Winery, California
Pinot Noir
Storypoint, Sonoma
Boen, Russian River Valley
Sonoma-Cutrer, Sonoma
Erath, Oregon
Merlot
Chateau Souverain, California
Duckhorn, Napa
Cabernet Sauvignon
Carmenet, California
Josh, California
Bonanza, California
Louis Martini, Napa
Hess, Napa
Canvasback Red Mountain, Washington
Robert Craig Affinity, Napa
Titus, Napa
Chimney Rock, Napa
Caymus, Napa
Groth, Napa
Cakebread, Napa
Silver Oak, Napa
Moone Tsai, Napa
Far Niente, Napa
11 / 42
12 / 46
14 / 54
68
65
21 / 82
150
26 / 102
195
165
250
168
240
225
250
Meritage & Blends
Hahn, Meritage, Central Coast
Girard, Napa
Chateau St. Jean, Cinq Cepages
Quintessa, Napa
Joseph Phelps Insignia, Napa
France
Chateau Tour de Segur, Saint-Emilion
Vidal-Fleury, Chatanuef-du-Pape
Italy
DaVinci, Chianti
Masi, Brolo Campoflorin
Col D'Orcia, Brunello di Montalcino
Alternative Reds
Malbec, Don Miguel Gascon, Argentina
Malbec, Clos de los Siete, Argentina
Zinfandel, Cline, California
Montagna-Mare, Opolo Winery, California
11 / 42
13 / 50
11 / 42
13 / 50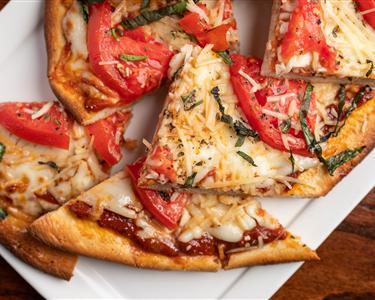 Open Daily
Monday - Sunday

Temporarily Closed
Staff Carousel
Memorable
Private Events
Choose Packard's Steakhouse for your next special occasion and enjoy comfortable indoor and outdoor space with beautiful views of the Copperhead Course. Packard's Steakhouse can host private events for up to 125 people, and is available for breakfast, lunch, and dinner.
For more information on Private Events and Dinners, please contact our Food and Beverage Manaager at 727.942.5240.